BREXIT
Brexit: UK 'could change economic model' if single market access denied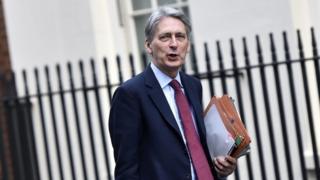 The UK may be forced to change its "economic model" if it is locked out of the single market after Brexit, Chancellor Philip Hammond has said.
Mr Hammond said the government would not "lie down" and would "do whatever we have to do" to remain competitive.
He had been asked by a German newspaper if the UK could become a "tax haven" by further lowering corporation tax.
Labour's Jeremy Corbyn said his comments sounded like "a recipe for some kind of trade war with Europe".
Having so far refused to offer a "running commentary" on her plans, Prime Minister Theresa May is expected to spell out the most detail so far of her Brexit strategy in a speech on Tuesday.
Reports have suggested she will signal pulling out of the EU single market and customs union, although Downing Street described this as "speculation".
In an interview with the German newspaper Welt am Sonntag newspaper, Mr Hammond said he was "optimistic" a reciprocal deal on market access could be struck, and that he hoped the UK would "remain in the mainstream of European economic and social thinking".
"But if we are forced to be something different, then we will have to become something different," he said.
"If we have no access to the European market, if we are closed off, if Britain were to leave the European Union without an agreement on market access, then we could suffer from economic damage at least in the short-term.
"In this case, we could be forced to change our economic model and we will have to change our model to regain competitiveness. And you can be sure we will do whatever we have to do.
"The British people are not going to lie down and say, too bad, we've been wounded. We will change our model, and we will come back, and we will be competitively engaged."
'Extremely risky'
Asked about Mr Hammond's comments during an interview on The Andrew Marr Show Mr Corbyn said "He appears to be making a sort of threat to EU community saying 'well, if you don't give us exactly what we want, we are going to become this sort of strange entity on shore of Europe where there'll be very low levels of corporate taxation, and designed to undermine the effectiveness or otherwise of industry across Europe.'
"It seems to me a recipe for some kind of trade war with Europe in the future. That really isn't a very sensible way forward."
Mr Corbyn also said Mrs May "appears to be heading us in the direction of a sort of bargain basement economy", adding: "It seems to me an extremely risky strategy."
---
More like Singapore?
by BBC business correspondent Joe Lynam
According to Philip Hammond, Britain might be "forced" to change its economic model. To what?
For some, the true advantage of leaving the EU would be to tear up the 'rules' and make Britain more like Singapore.
Singapore abides by World Trade Organisation and ASEAN (the Association of Southeast Asian Nations) trade rules, but it's famed for its light touch regulation - especially when it comes to financial services - which some Brexiteers feel is the opposite of EU "meddling".
But turning a large G7 economy with a robust social model into a city state might be difficult. It might involve the government handpicking which industries it thinks will be successes and rapidly neglecting existing sectors.
Millions of people would need to get brand new qualifications while those with undesirable skills would become surplus to requirements. Massive infrastructure projects might be rushed through with minimal consultation.
For a country with Britain's past and present, is that a possible future?
---
Scottish First Minister Nicola Sturgeon said it appeared Brexit would mean a "low-tax, deregulated race to the bottom", with workers' rights and environmental protections threatened.
She wrote on Twitter: "If that is the case, it raises a more fundamental question - not just are we in/out EU, but what kind of country do we want to be?"
In her speech on Tuesday, the prime minister is expected to call on the country to "put an end to the division" created by the EU referendum result.
She will urge the UK to leave behind words such as "Leaver and Remainer and all the accompanying insults and unite to make a success of Brexit and build a truly global Britain".
Several of Sunday's newspapers claim Mrs May will outline a "hard Brexit" approach, a term used to imply prioritising migration controls over single market access.
Northern Ireland Secretary James Brokenshire said he did not think it was a "binary choice" between trade and migration, but added that the "very stark message" from the EU referendum was that "free movement as it exists today cannot continue in to the future".
Speaking on the BBC's Sunday Politics, Liberal Democrat leader Tim Farron said a "hard Brexit" had not been on the ballot paper in June's referendum and accused the PM of adopting "the Nigel Farage vision" of Brexit.
Mr Farage, the former UKIP leader, told Sky News he had "yet to be convinced" by the PM's approach.
Read more: Brexit: UK 'could change economic model' if single market access denied
Labour leader Jeremy Corbyn welcomes by-election 'opportunity'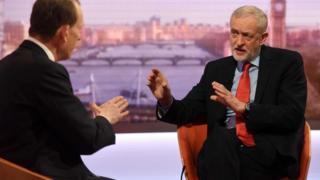 Labour's Jeremy Corbyn has welcomed two upcoming by-elections as an opportunity to challenge the government.
Asked if his Labour leadership was "toast" if the party did not hold on to seats in Copeland and Stoke-on-Trent Central, he said it was a chance to set out its policies on the NHS and Brexit.
He told the BBC's Andrew Marr Labour would "fight very hard" to keep seats.
Unite leader Len McCluskey said Mr Corbyn remained "on a learning curve" as leader of the Labour party.
MPs quitting
Mr Corbyn's interview followed the resignation this week of Labour MP for Stoke-on-Trent Central Tristram Hunt, who is quitting as an MP to take a job at the Victoria and Albert Museum.
A by-election is also due after Jamie Reed left his Copeland seat to take up a position at the Sellafield nuclear power plant.
Mr Corbyn, who said media coverage of Labour had not been "very fair", said the by-elections were "an opportunity to challenge the government on the NHS, on the chaos of Brexit, the housing shortage, on zero hours contracts".
He was questioned about a ComRes poll that found 43% of people thought the Tories under Prime Minister Theresa May would do a better job of managing the NHS this winter compared with 31% who thought Mr Corbyn and Labour would.
But almost half of the 2,038 questioned, 47%, agreed the Red Cross was right to say the NHS was in a "humanitarian crisis".
There has been a renewed focus on the state of the NHS in the past week after figures showed more than four in 10 hospitals in England declared a major alert in the first week of the new year as they came under unprecedented pressures and Downing Street put pressure on GPs to open for longer hours.
Asked about the more positive showing for his opposite number, and expected strong challenges in coming by-elections Mr Corbyn said: "I think the more people see the reality of the under-funding of the NHS, of the hiving off and privatising of services, the outsourcing of NHS facilities, the more and more disappointed and angry they are going to get."
Healthcare, social care and mental health services were under-funded in the current government, and that was putting a "massive strain" on Accident and Emergency departments, he said.
Labour would stop cuts in corporate taxation and the top rate of tax to keep £70bn for the Treasury, he said, and use that money to stop cuts to NHS services and to invest in social care.
'Seem competent'
Len McCluskey, who is seeking re-election as his union's general secretary, told the BBC's Pienaar's Politics that leading Labour was still Mr Corbyn's "challenge" following his re-election in September.
"I think he's a decent man and I think he's putting forward really excellent policies at the moment. But there are huge challenges, now it's up to Jeremy to try to rise to those," he said.
Mr McCluskey said he didn't speak to Mr Corbyn that often "but when I do have access to leadership team they're very open and seem fairly competent to me".
Labour MPs are on a "learning curve" to "recognise the changing nature of Labour", he said, adding "Jeremy's on a learning curve to become a leader. He's still on that learning curve. I think he's getting better and I think he speaks to an awful lot of people, because he's an incredibly decent man. But it's his challenge."
Mr McCluskey has been accused by one of his Unite leadership rivals, regional official Gerard Coyne, of putting Westminster "power games" ahead of the union - a charge he denied.
Mr Coyne told Pienaar's Politics that whether someone was a supporter of Mr Corbyn or not had become an "obsession". More important was protecting Unite's members in the changing economy, he said.
Immigration questions
Shadow chancellor John McDonnell told Sky News it had been a "pretty good" week for Labour, despite critics' claims of "muddled" policies on high pay and migration.
Labour has faced questions recently about its position on the free movement of people, with Mr Corbyn being urged to back a change in the rules to allow migration numbers to be reduced.
Mr Corbyn said the UK should not "cut ourselves off completely" after leaving the EU, saying free movement would be a factor in negotiations over single market access.
Shadow foreign secretary Emily Thornberry said Labour was not going to "die in a ditch" for the sake of the continued free movement of labour and that there would have to be new rules after Brexit.
Speaking to ITV's Peston On Sunday, she said: "If we're leaving the European Union then we need to make sure that we have fair rules and properly managed migration but it's all subject to negotiation because our economy comes first."
Read more: Labour leader Jeremy Corbyn welcomes by-election 'opportunity'
Donald Trump says UK 'doing great' after Brexit vote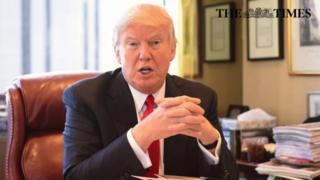 The UK is "doing great" following its vote to leave the EU, US President-elect Donald Trump has said.
In his first UK interview, with former justice secretary Michael Gove for the Times, Mr Trump said he thought the UK was "so smart in getting out".
Mr Trump promised a quick trade deal between the US and the UK after he takes office in five days time.
He also criticised Nato and German Chancellor Angela Merkel's immigration policies.
Mr Trump spoke to the Times and German newspaper Bild ahead of his inauguration on Friday.
'Crazy'
Mr Gove - who was a prominent Leave campaigner during last year's referendum - asked Mr Trump whether the UK was "at the front of the queue" for a trade deal with the US following the Brexit vote.
"I think you're doing great, I think it's going great," he replied.
The question referred to President Barack Obama's comments last April that the UK would be "at the back of the queue" if it left the EU.
"Trump said Brexit is going to happen, and it happened. Everybody thought I was crazy," the president-elect continued.
"Obama said, 'They'll go to the back of the line,' and then he had to retract his statement."
Mr Trump added: "Countries want their own identity and the UK wanted its own identity, but I do think if they hadn't been forced to take in all of the refugees than you wouldn't have a Brexit."
Speaking about a potential US-UK trade deal, he said: "We're gonna work very hard to get it done quickly and done properly. Good for both sides."
Mr Trump also talked about the recent dip in the value of the pound.
"The fact that your pound sterling has gone down? Great," he said, "because business is unbelievable in a lot of parts in the UK, as you know. I think Brexit is going to end up being a great thing."
During the interview, held in Mr Trump's offices in Trump Tower, New York, the president-elect also said he thought Mrs Merkel was the "by far the most important European leader".
"If you look at the European Union, it's Germany - it's basically a vehicle for Germany," he said.
Mr Trump described Mrs Merkel's immigration policy as a "big mistake", but said "people make mistakes".
"I think she made one very catastrophic mistake and that was taking all of these illegals, you know taking all of the people from wherever they come from. And nobody even knows where they come from," he added.
Mr Trump also stressed that he would "start off trusting both Russian President Vladimir Putin and Mrs Merkel" on taking office, but would "see how long that lasts".
Nato 'obsolete'
Talking about international security, Mr Trump argued that he had said "a long time ago that Nato had problems".
"One; that it was obsolete because it was designed many many years ago, and number two; that the countries weren't paying what they're supposed to pay."
Last November, Downing Street said Prime Minister Theresa May and Mr Trump discussed the need for more countries to commit to spending 2% of national income on defence, when they spoke on the telephone after the US election.
And he said he believes the West should have built safe zones in Syria - paid for by the Gulf - to limit the surge.
Other topics Mr Trump discussed included his mother's "love" of the Queen.
"She was so proud of the Queen," he said. "She loved the ceremony and the beauty, because nobody does that like the English, and she had great respect for the Queen and liked her.
"Any time the Queen was on television, for an event, my mother would be watching."
Read more: Donald Trump says UK 'doing great' after Brexit vote
Pound falls ahead of Theresa May Brexit speech
15 January 2017

From the section

Business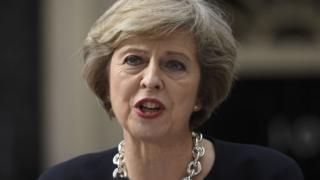 The pound has fallen against the dollar to below $1.20 ahead of a key speech from Theresa May on Brexit this week.
Sterling fell 1.5% against the US currency on Sunday to its lowest level since the flash crash in October.
Analysts said traders were reacting negatively to reports that the prime minister would signal plans on Tuesday to quit the EU single market.
The pound has now dropped about 20% against the dollar since the referendum when it fell to 31-year lows.
The pound also dropped to a two-month low against the euro on Sunday, falling to about €1.13.
Several of Sunday's newspapers claimed Mrs May would outline a "hard Brexit" approach, a term used to imply prioritising migration controls over single market access.
'Kryptonite'
Downing Street has described this as "speculation".
However, reports of the UK leaving the single market are "like kryptonite" to traders who back the pound, said Kathleen Brooks, an analyst at City Index.
"The FX market has spoken, and, as of Sunday night, it is not confident that Theresa May can deliver the necessary clarity and confidence when she lays out her Brexit plans in a speech on Tuesday," Ms Brooks said.
The "Brexit theme as bad news for the pound is such an ingrained trend" now that every headline can "generate another wave of selling", she added.
The pound has been volatile since the Brexit vote, partly due to uncertainty about the economic impact if the UK gives up its tariff-free access to the EU.
It reached its lowest level in the early hours of 7 October when a flash crash during Asian trading saw it drop below $1.18.
A report on Friday said the abnormally large swing was due to a range of factors, including the time of day.
Trading in the pound can be more volatile in Asian markets, when key sterling counter traders in London and other important Western markets are not operating.