YAHOO WORLD NEWS
Category: world news
Published: 16 January 2017
Hits: 540
S Korea corruption: Prosecutors to seek arrest warrant
16 January 2017

From the section

Business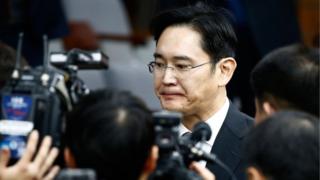 South Korea's special prosecutor is seeking an arrest warrant for Samsung heir apparent Lee Jae-yong, on bribery charges.
The case is linked to a scandal that led to the impeachment of the country's President Park Geung-hye.
Samsung is accused of giving donations to non-profit foundations operated by Choi Soon-sil, a friend of Ms Park, in exchange for government favours.
The donations were allegedly made as it sought political support for a merger.
Mr Lee, also known as Jay Y Lee, was questioned for more than 20 hours at the prosecutor's office in Seoul last week.
He is currently vice-chairman of Samsung Electronics, but since his father, Lee Kun-hee, suffered a heart attack in 2014, he is considered de facto boss of the entire Samsung Group conglomerate.
Lee Jae-yong
Samsung's heir apparent
- Grandson of Samsung founder Lee Byung-chul, son of current chairman Lee Kun-hee.

- Aged 48, he's spent his entire career in the company and is vice chairman of Samsung Electronics.

- Last year was nominated to join the board of Samsung Electronics - an appointment confirmed on 27 October.

- Widely expected to take overall control of Samsung once his 74-year-old father steps down.

- Critics say his position on the board is due to his birth, not his business experience.
Getty Images
The news sent Samsung shares lower, with Samsung Electronics stocks down 2% by midday in Seoul, and parent firm Samsung C&T down 0.8%.
Pension chief indicted
The claims against Samsung centre on a controversial merger between the electronics giant's construction arm, Samsung C&T, and an affiliate firm, Cheil Industries.
Prosecutors allege that Samsung gave money to a company co-owned by Ms Choi and her daughter, in return for Ms Park's support for the deal.
At the parliamentary hearing in December, Samsung admitted giving a total of 20.4bn won (£16m; $17.46m) to the two foundations, but denied seeking favours.
Earlier on Monday the special prosecutor indicted the country's National Pension Service (NPS) chairman Moon Hyung-pyo on charges of abuse of power and giving false testimony.
The NPS is the world's third-largest pension scheme and was a major shareholder in the two Samsung Group affiliates. It is claimed Mr Moon pressured the organisation to back the deal - something the NPS has denied.